SAVAGE PRO
SavagePRO is for advanced athletes looking to take their Savage Race experience to the next level. SavagePRO participants compete for age group awards, special medals, cash prizes, and all the glory. SavagePRO is always the first race heat of the day, starting with a fresh course, at 9:00 am. SavagePRO is for the top 5% of runners, not for casual competitors, or beginners. Learn more
SAVAGE SYNDICATE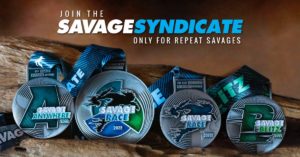 Savage Syndicate is a loyalty program designed to reward participants who run in two or more events on the same day or within a single calendar year (this means between January 1 and December 31 of the same year). After you qualify, you can pick up your own Syndicate medal and pins (one for each race) onsite at your qualifying race. Learn more
Want to earn your Syndicate status on the same day? Just signup for the 'Syndicate Pass' option when you go to register. This will sign you up for both a Race and a Blitz on the same day and it includes the early start time upgrade!
TEAMS
Savage Race is about teamwork, friendship, and community. It's also about smiling and having a lot of fun. Make the most out of your Savage experience by completing it with your friends and family. We promise that it is the best that way. Speaking of community, why don't you join our Savage Syndicate group on Facebook to connect with other runners?
SPECTATORS
Watch your friends or family complete Savage Race with a spectator pass. Spectators have full access to the race course. We provide spectator course maps and recommended spectator viewing routes to help you find your way. Spectator passes are $22 online until the Friday before the event, or $30 onsite (includes all applicable taxes) on race day. All SavageJR entries come with one complimentary spectator pass. Purchase spectator passes here.
SAVAGE RACE X GORUCK
There are two ways to Ruck Savage Race.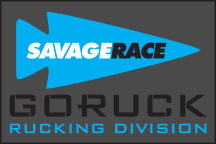 Savage Race Rucking Division
9:30am Saturday
Rucking Division is not a Cadre-led event. In Rucking Division, you simply show up, have fun, and ruck the course with your friends and others from the GORUCK community. Rucking Division finishers earn a special patch in addition to their T-shirt and medal. Rucking Division event completions do count toward Savage Syndicate qualification.
Register Now for Rucking Division
Wait! I don't know what rucking is. Tell me more about rucking at Savage Race.
Corporate / Single Payer Groups
Savage Race offers corporate discounts for groups of 8 or more who pay for their registrations with a single payment. Learn more about corporate group discounts.
Volunteering
Want to have an amazing day working at Savage Race, then run the course? Want to race for free, or earn a donation for your charity? Savage Race offers a fun-filled day of volunteering, racing, and great incentives to volunteers. Learn more
Sponsorship
Savage Race has some of the most dedicated fans and highest rate of return athletes in the Obstacle Course Racing industry. Are you interested in becoming an official partner of Savage Race? Contact our sponsorship team
SavageJR
For Kids 12 and Under
We have a friendly and challenging course for your little Savage. Each wave is monitored by friendly and enthusiastic staff, and parents are encouraged to come out and play too!
The SavageJR course is offered in two course distances:
1/3 mile course for Savages 8 and under, with easier obstacles. Parents are welcome to participate with their child.
1 mile course with larger obstacles for Savages 9 to 12.
Each Savage Junior will receive:
Official Savage Race Finisher medal
Official Savage Race Finisher T-shirt
Ages: 12 and under
Registration: $40 online or $50 on-site. One spectator pass is included.
Times:
12:00 PM